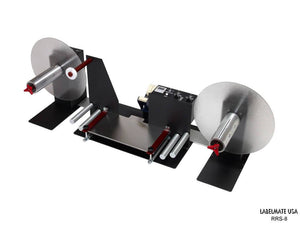 RRS-8-16
$4,99500

$4,995.00
---
Item #: 80-218-0002
---
Label Splicing System for 16" Diameter Rolls.
Max. Label Width: 8" (203mm)
Max. Roll Diameter: 16" (406mm)
Core Diameter: 3" (76mm)
Digital Counter that can stop at a preset count if desired
Variable speed control
Bi-directional operation
Adjustable web-tension control
Warranty: 3-Year Parts & Labor Limited Warranty
---
Description
RRS-8 Label Splicing Systems provide a turnkey package for manually splicing label rolls together in order to make one large roll from multiple small rolls, or to change label types during a production run. The system includes two independently controlled Bi-directional CAT-3 Rewinder / Unwinders, as well as a stainless steel splicing table and preset digital Counter. Choose the RRS-8-12 for roll diameters up to 12" (305mm), or the RRS-8-16 for roll diameters up to 16" (406mm).
---
Shipping Information
Carton 1
Size:

 

30"x20"x20" (508x508x280mm)
Weight:

 

58 lbs. (26.3 kg)
Carton 2
Size:

 

20"x20"x11" (508x508x280mm)
Weight:

 32

 lbs. (14.5 kg)
Carton 3
Size:

 

20"x20"x11" (508x508x280mm)
Weight:

 32

 lbs. (14.5 kg)
---