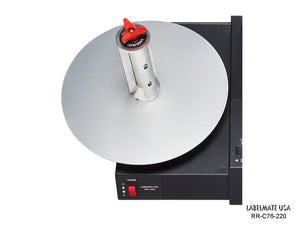 RR-C76-220
Mechanical Core-Chuck Assembly for RRC-400 and RRC-400-U. 3" diameter, 8.6" Length. Includes 16" Diameter Plate and Mounting Hub.
Core Diameter: 3" (76mm)
Length: 8.6" (220mm)
Mounting: Setscrew, press fit
Composition: Aluminum and steel
Warranty: 3 Year Parts and Labor Limited Warranty
---
Description
This spring-loaded mechanical "Quick-Chuck" assembly makes loading and unloading large rolls virtually effortless. The Chuck tightly grips the inside of the core while the roll is wound. Simply turn the knob clockwise (right) to expand/tighten the Chuck, and counterclockwise (left) to contract/release the Chuck. A setscrew locks the Chuck onto the motor shaft.
---
Shipping Information (If shipped seperately)
Size: 20"x20"x11" (508x508x280mm)
Weight: 13 lbs. (5.9 kg)
---